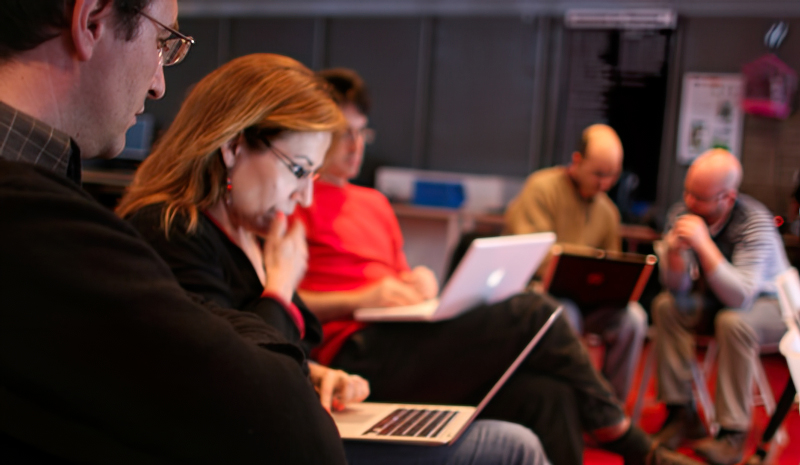 Both Riverrrun and Colourwall address how we are influenced by others; how we compete and collaborate, as we collectively create in a social network. They are conspicuously contemporary in this regard.
Our general objectives could be described as follows:
Present a series of experiments in collective creativity, involving public participation (or indeed the participation of professional writers or artists) and interaction.
Present the documentation of experiments preciously done in Spain.
Perform a scientific analysis of the results.
Publish theoretical texts with regard to the outcomes of the experiments and also their contemporary and historical context.
Give talks and workshops.
Promote collaborative creation and network building on a local, national and international scale, between individuals and institutions.
Create opportunities for intercultural communication and participation during the creative events.
Contribute to public understanding of collective creativity while providing a new creative tool which offers new cultural and artistic possibilities.
Riverrun and Colourwall: Specific Objectives
Perform various experiments, some on a one-off basis and others as a continuous basis.
Involve the exhibition visiting public as creative agents. These events, whether online or analogue, will unfold in real time. The online version will take the form of an immersive audio-visual installation.
Submit the data compiled to posterior scientific analysis. We are especially interested in the phenomenon of Collective Intelligence. The experiments will also permit us to explore relations between scientific techniques for understanding collective human behaviour and theoretical concepts related to shared and individual experience, sensation and perception.
Undertake a theoretical analysis of collective intelligence as a creative and artistic phenomenon. Concepts such as chance, randomness, noise and coherence, important as they are in both contemporary art and science, are also of interest to us.
Publish the results in high impact theoretical and scientific publications.
Arrange talks, workshops and debates of interest to artists, theorists, scientists and the public interested in creative practice.
Develop workshops and lectures specifically designed for students.
Promote cooperation and dialogue between individuals and institutions as local collaborating agents. For example, between creators and scientists in different countries, exhibition spaces, publishing houses etc.
Finally, we would like to emphasise the possibility of developing international projects between the UK and Spain in the future.
Riverrun and Colourwall: Publications
Publications produced will include a contextualisation of the project in scientific and artistic terms from a theoretical and historical perspective:
The scientific part will refer to studies of collective phenomena and complexity, with an analysis of the experiments conducted forming its starting point. The Physics of Complex Systems employs mathematical tools to describe emergent phenomena. Can such tools be applied to collective creativity? We will try to determine whether a phase transition occurs in the complexity of the stories and drawings generated.
The historical and theoretical part will refer to recent works in the field of art and new technologies and to earlier artistic movements whose methods involved collective creation, such as Surrealism and Fluxus.
Some articles will focus on the concept of collective intelligence as the basis for an "interdisciplinary movement" between art and science. Here we will also look at relevant empirical examples from both art and science.
Other works will focus on the experience of the experiments from the perspective of the participant, the visitor and the observer/reader, with a specific emphasis placed on the themes of interaction, authorship and coherence. This part will also refer to previous artistic and scientific experiments.
In each case above, the phenomenon of collective intelligence will form the central axis.