Riverrun took part in Interactivos 14?' from November 13-23, 2014 at Medialab-Prado (now Medialab Matadero), Madrid. This allowed us to make great advances.
The event kicked off with a presentation of the projects selected. This was followed by a series of lectures. I gave a talk called "Creation, Creativity and Working Collectively". Powerpoint here.
Over the nine days, we developed further visualisation tools for Riverrun3 with the help of Carles Gutiérrez and decided upon certain parameters and metaphors for creativity with the help of Ángel M. Núñez and Iván González. These choices will be reflected in the changes which occur in the visualisation of the global text as it develops. They will also form the basis for part of the analysis which wil be undertaken in the future.
At the end we presented the project, then put together a small exhibition / performance, shown in the  image here. Thanks go to Regina Gabilondo for her graphic design skills.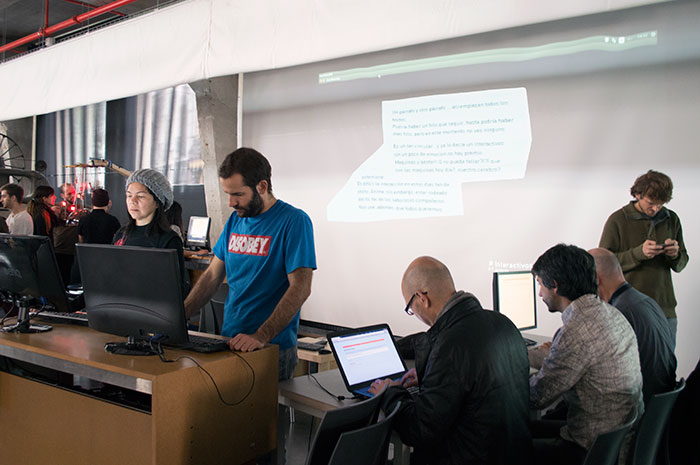 Over the next few months until February, we will be setting-up experiments online and in Madrid. You can sign up for these on meetup.com. Once you've joined, search for Riverrun or go directly here.